GREETINGS FROM THE JAMAICA OUTREACH PROGRAN
REPORT OF THE SEPTEMBER 2016 DENTAL MISSION TEAM
PIUS CAMPUS, KINGSTON, JAMAICA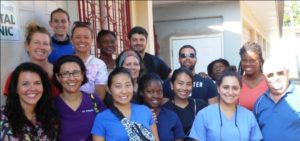 To:  Board of Directors, missionaries and other interested parties
From:  Roger Plante, Dental Mission Leader
RE: Mission Trip Report September 26-27-28, 2016   St. Pius X Mission, Kingston, JA
As usual, I was privileged to serve with 13 extremely devoted missionaries on this our 21st organized dental mission trip at the Van Domelen Dental center.   These missionaries included:
Dr. Cara Corning, Mt. Juliet, TN
Dr. Manijeh D'Amelio (Dr. Jenny) Naples, FL
Dr. Brian Van Slootan, Arlington, VA
Wendy Gibson Mills RDH Brohard, WV Team Leader
Regina Johnson, Dental Asst, Nashville, TN
Berline Joseph, Dental Asst., Ft. Lauderdale
Cindy Weldon  RDH, Naples, FL
Marie Do, RDH, Va Bch, VA
Rachel Dalida, RDH, Va Bch, VA
Rachel Yacoub  RDH  Phoenix, AZ
Brittany Knapp, RDH, Washington,  WV
Jamel Woods, Lay Assistant, San Diego, CA
Jhenell McLeod, Lay Assistant, Kingston, Jamaica
This team far exceeded the established goals for this mission.
Following are the mission tallies:
Extractions    Fillings       Cleanings    Other        Total clinic patients   DuPont School
55                     22               19               4                97                      147= Day 1
48                     28                38               4               70                      240=Day 2
36                     41                40               5               71                      270=Day 3
139                    91                97              13            238                       657 Total
Total clinic procedures:  340 Total patients in clinic:    238 Total patients seen:  895
As usual, our mission team was enhanced by the presence of Miss Vivienne Bradford, Rosemarie Warren and (Boxer) McEwan without whose help many of our little problems would not have been handled so smoothly.
The mission was conducted without incident or any breakdown of equipment and the communication and accord between the missionaries was stellar.
The DuPont staff was extremely cooperative and they again expressed their appreciation for all that JOP does for their student body.
On Thursday morning, Dr. Bran Van Slooten and I left with Boxer for the motor trip to Seaford Town with a truckload of equipment and supplies which we have been collecting from generous donors here in the states, along with some purchased goods to set up the upcoming mission there.  The scheduled dates for our first dental/medical mission there is October 20-21-22.  That mission will include a dental team of 3 persons, a medical team of 4 persons a team leader and two support persons.    This is a maiden voyage and our first real mission outreach to Bishop Burchell McPherson's diocese. We know there is deep poverty there, and we are looking forward to more such missions at that location.
We are always in need of dental personnel plus ER or clinic type of medical people at our missions and additionally, we are trying to equip our clinic in Montego Bay, so we are also always in need of instruments, equipment and supplies.   Anything you can donate will be acknowledged with a Letter noting your donation.  We are a 501-3-c corporation.
As usual, huge THANK YOU to this team of devoted and dedicated individuals who made up this team, for spreading God's love to the less fortunate.